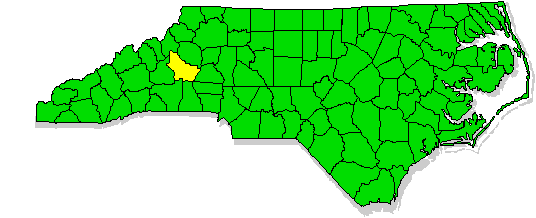 The Communities of
Burke County, North Carolina
---
The communities in Burke County range from tourist and visitor-oriented to historic and industrial. The following is a description of several of our unique towns and cities.
Morganton
Stop, look and enjoy downtown Morganton. Located in the middle of the county, off interstate 40, Morganton is the county seat and the business/industrial hub of Burke County. It is a town which offers a prelude to the great Blue Ridge, committed to perpetuating itself as a great place to live, work, shop, play and do business, and was voted as one of the top places to live in the United States. It is the largest town in the county and provides an ideal mix of city services and conveniences. Established in 1777 and incorporated in 1784, the town was named for General Daniel Morgan of Revolutionary War fame. Its first name was Morgansborough, which was later changed to Morganton. For additional information call (828) 437-8863 or (828) 438-5252, send an email to: pubinfo@ci.morganton.nc.us, or visit them on the web at: www.ci.morganton.nc.us or www.Morgantondtwn@hci.net.
Click to see larger version of photo

---
Valdese
Situated due east of Morganton, Valdese is the second largest town in the county. It was founded in 1893 by the Waldensian pioneers who escaped generations of religious persecution in the Cottian Alps of Northern Italy to settle here. Valdese (which is derived from the Italian word Valdesi meaning Waldensian) was incorporated in 1920. The story of the Waldenses is unique in the history of North Carolina. While other towns across the United States were founded by religious immigrants, Valdese is the only one to keep its heritage and traditions intact and alive. The outdoor drama "From This Day Forward", Trail of Faith and the Waldensian Museum tell their story. A European ambiance is still evident in the downtown. Alba Waldensian Hosiery and Waldensian Bakeries rank as two of the largest industries in the county. For additional information on this quaint community, call (828) 879-2116, or
Drexel
Drexel was named for Anthony J. Drexel of a prominent family in Philadelphia. He was the director of the Southern Railway when the station was named. World renowned Drexel furniture is produced here. For additional information on this quaint community, call (828) 437-7421, or send an email to: drexel@hci.net.
Connelly Springs
Connelly Springs is two miles east of Valdese. Originally called Happy Home, the town's name was later changed in honor of the Connelly family which developed a resort around some nearby mineral springs.
Rutherford College
Rutherford College is located centrally between Morganton and Hickory, encompassed on the east by Connelly Springs and the west by the town of Valdese. The town was first called Excelsior, but was later renamed for John Rutherford who donated land for the college. The college was owned by the Southern Methodist Conference and was merged in the 1930's with Weaver College and Brevard Institute to become Brevard College located in Brevard, North Carolina. The site for the college was where Valdese General Hospital is currently located. Rutherford College is considered a small residential community with two large industries: Beiersdorf Jobst and O'Mara Textiles. A new lake front sub-division is in the planning stages at this time and will eventually be located along Lake Rhodhiss on the northern side of Rutherford College. For additional information, call (828) 874-0333, or send an email to: rctown@vistatech.net.
Glen Alpine
Glen Alpine was first called Turkey Tail for an old tree stump which resembled a gobbler's tail, then Sigmonsburg for a general store manager. When the railway came, it was named Glen Alpine, which means "mountain valley". It was built around now dormant knitting and hosiery mills. Today, most residents work in Morganton. For additional information, call (828) 584-2622.
Hildebran
Founded in 1899, Hildebran was originally named The Switch because the railroad made the switch from one track to another here. Today Hildebran is home to textile and furniture industries, as well as a large industrial site. For additional information, call (828) 397-5801.
If anyone has any information or photos that you would like to share regarding any of these communities, we would love to hear from you via email.